July 24, 2011
2011 George Street Raffle
Win a bike!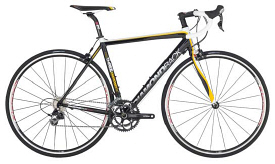 Win a 2011 Diamondback
Podium 3 road bike from Barney's Bicycle! Tickets are $5, or three for $12, or six for $20. Prize drawing will be July 24 at the conclusion of the 10th annual George Street Bike Challenge for Major Taylor at George and Main streets, Worcester, Mass. You need not be present to win. Proceeds benefit the Major Taylor Association. More prizes are shown below.




| | | |
| --- | --- | --- |
| 1 TICKET ($5) | 3 TICKETS ($12) | 6 TICKETS ($20) |

To order raffle tickets by mail, send a check payable to Major Taylor Association, by July 18, with a note saying "raffle," to: Major Taylor Association, PO Box 20131, Worcester, MA 01602. You must include an e-mail address or phone number so we can notify you if you win. Tickets will be mailed to you.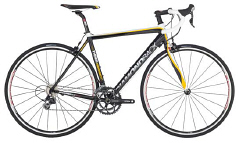 GRAND PRIZE -- Diamondback Podium 3 road bike: This 2011 model from Diamondback offers performance, comfort, and smooth handling. It features an aluminum frame and carbon fork, Shimano 105 derailleurs with 10-speed cassette and compact double crankset (54/30). Size medium; no exchanges. Click here for complete specs, and check it out at Barney's Bicycle, 165 Chandler St., Worcester. Winner: Jim Shepardson

MORE PRIZES:


Major Taylor cycling jersey from the Major Taylor Association. The custom, limited-edition design features a 1900 photograph of Major Taylor taken by E. Chickering in Boston; the Worcester, Mass., street sign for Major Taylor Boulevard with the city's "Heart of the Commonwealth" symbol; and the 1899 world champion's nickname, "The Worcester Whirlwind." Made by Louis Garneau in Micro-Airdry fabric with a 14-inch hidden zipper and three rear pockets. To buy this jersey ($79), click here. Winner: Michael Linde
JERSEY SPONSORS: AdventureCORPS
Jason & Fischer (BikeAttorney.com)


| | | |
| --- | --- | --- |
| | Merino wool Sprint tank tops and All Sport socks from Joneswares, based in Petersham, maker of high-quality wool clothing for cycling and other outdoor sports. The Joneswares slogan says it all: Get (real) comfortable. Winner: Melanie Lamoureux | |
| | | |
| --- | --- | --- |
| | Gift boxes from Just Soap, the pedal-powered natural soap. Each box contains bars of Lavender Rosemary, Lemongrass Ginger, Cinnamon Clove, Oatmeal Honey, and Lavender Avocado soap. A great thing about this Massachusetts-made product is that the ingredients are blended by bicycle -- a unique model that drives a belt that turns a blade in a big stainless steel vat. Winners: Melanie Lamoureux, Sue Brazeau, Kathy Bibaud, Anna Yurkovetsky | |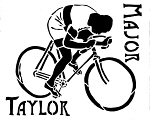 Hand-printed stencil artwork from Toronto artist Janet Bike Girl. These 8.5-by-11-inch prints on Arches cotton paper from France are suitable for framing. Winners: Sue Brazeau, Kathy Bibaud, Anna Yurkovetsky, Karalyn McCann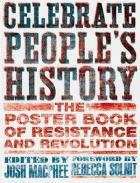 The book "Celebrate People's History" from The Feminist Press. This visual tribute to liberty and justice, in the form of contemporary posters, was a Library Journal selection for Black History Month 2011. Major Taylor is featured in a design by Toronto artist Janet Attard, aka Janet Bike Girl. Winner: Pete Banach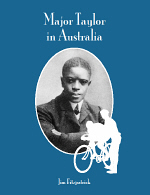 From Star Hill Studio, the new book "Major Taylor in Australia" by Jim Fitzpatrick. This account of Major Taylor's racing seasons Down Under was the basis for the 1992 TV movie "Tracks of Glory" and is now available for the first time in book form. Meet the author and sample Australian wines and beer at Major Taylor Down Under, June 10 in Worcester. Winners: Michael Linde, Kathy Bibaud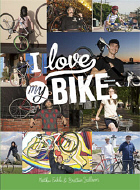 "I Love My Bike" from Chronicle Books, a photographic celebration of the grand kinship of bicycles, colorfully captured by Boston cyclists Matthew Finkle and Brittain Sullivan. Winners: Sue Brazeau, Anna Yurkovetsky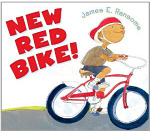 "New Red Bike" (Holiday House, 2011), a charming storybook for the training-wheels set, autographed by author-illustrator James Ransome. Ransome also illustrated the children's book "Major Taylor, Champion Cyclist" and created our colorful Major Taylor poster. Winners: Karalyn McCann, Melanie Lamoureux

Major Taylor
|
Statue
|
Events
|
Donations
|
News
|
Friends
|
Home
Major Taylor Association, Inc.
P.O. Box 20131
Worcester, MA 01602
info@majortaylorassociation.org
©2000 - 2018 Major Taylor Association, Inc. All rights reserved.
Web design by Tom Swenson.