Major Taylor cycling jersey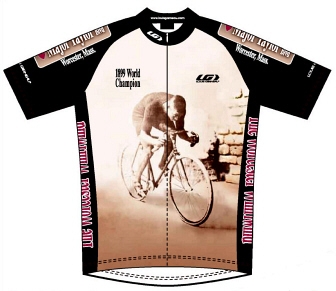 The Major Taylor Association is pleased to offer a custom, limited-edition cycling jersey, thanks to support from AdventureCORPS and Jason & Fischer (BikeAttorney.com), for a $79 donation, including shipping.
The design, by Robert Lara of Major Taylor Cycling Club of NY/NJ, features a 1900 photograph of Major Taylor taken by E. Chickering in Boston; the Worcester, Mass., street sign for Major Taylor Boulevard with the city's "Heart of the Commonwealth" symbol; and on the side panels, the 1899 world champion's nickname, "The Worcester Whirlwind."
The jersey, made by Louis Garneau, is Micro-Airdry fabric with a 14-inch hidden zipper and three rear pockets.
As seen all over the United States and abroad! Click here for a photo gallery.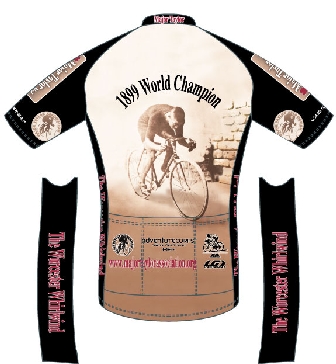 See the Louis Garneau size chart. The jerseys are "performance fit" or "pro fit," as opposed to "sport" or "semi-relaxed," so they run a little snug.
SOLD OUT as of May 7, 2014. But backorders are being taken until Aug. 1 for fall 2014 delivery. The fall batch will consist only of sizes that are backordered. Questions? E-mail us.


For mail orders, send a check for $79 per jersey, payable to Major Taylor Association, to:
MAJOR TAYLOR ASSOCIATION, INC.
P.O. Box 20131
Worcester, MA 01602