Major Taylor cycling jersey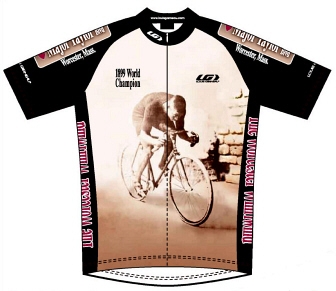 The Major Taylor Association is pleased to offer a custom, limited-edition cycling jersey, thanks to support from AdventureCORPS and Jason & Fischer (BikeAttorney.com), for a $79 donation, including shipping.
The design, by Robert Lara of Major Taylor Cycling Club of NY/NJ, features a 1900 photograph of Major Taylor taken by E. Chickering in Boston; the Worcester, Mass., street sign for Major Taylor Boulevard with the city's "Heart of the Commonwealth" symbol; and on the side panels, the 1899 world champion's nickname, "The Worcester Whirlwind."
The jersey, made by Louis Garneau, is Micro-Airdry fabric with a 14-inch hidden zipper and three rear pockets.
As seen all over the United States and abroad! Click here for a photo gallery.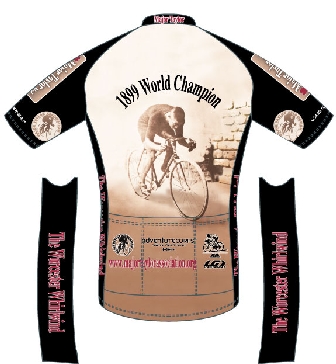 See the Louis Garneau size chart. The jerseys are "performance fit" or "pro fit," as opposed to "sport" or "semi-relaxed," so they run a little snug.
Available now: As of March 4, 2014, we're sold out of all women's sizes, and no women's jerseys are coming in the batch being produced for April 2014 delivery. Backorders can be placed now for April 2014 delivery of men's sizes M-XXL. (Backorders also can be placed for fall delivery, any size.) Questions? E-mail us.


For mail orders, send a check for $79 per jersey, payable to Major Taylor Association, to:
MAJOR TAYLOR ASSOCIATION, INC.
P.O. Box 20131
Worcester, MA 01602