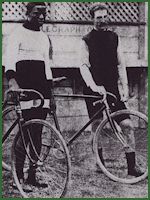 Major Taylor and his friend Don Walker in Australia, 1903


Friends of Major Taylor
including Associated Clubs

SPONSORING PARTNER
Worcester Public Library

CHAMPIONS
$50,000 and up

SCORCHERS
$10,000-$49,999
Fletcher Foundation
Stoddard Charitable Trust
WHIRLWINDS
$2,500-$9,999
Hoche-Scofield Foundation
Wyman-Gordon Foundation
PACESETTERS
$1,000-$2,499
African Heritage Institute
Barbara G. Haller
Donald & Mary Melville
SPRINTERS
$500-$999
Hepatitis C Multicultural Outreach
John R. Whalen
TEAMMATES
$250-$499
2 Wheel Motion Cycling Club
Boston Blackouts
Committee to Elect Harriette L. Chandler
Martha and Bill Chiarchiaro
James F. Cosgrove
Indiana Hand Center Racing Team
Jester Drum & Bugle Corps
Drs. LaMura and Sweet
Dr. Linda A. Maykel, D.D.S.
NAACP, Worcester Branch
WHEELMEN
$100-$249 or in-kind goods or services
Marion and John Belculfine
Francis Benoit Plumbing & Heating Service
Bird Lawn Care
Kai Dyer Chin and Mizan Dyer Chin
Citizens Committee to Elect Tim Murray
Community Yoga
Comp Digital Imaging
Joe Early Jr.
Fran Ford for Governor's Council
Gamache Cyclery
John M. Gerard
Hampton Inn of Worcester, MA
KRBY Creations
E.B. Luce Corp. and Art Frame
Major Taylor Cycling Cincinnati
Millbury Rubbish Removal
Paul Mullan
Michael O'Sullivan
Karen Potter, massage therapist
REM Automobiles
Retired Men's Club of Greendale
Santiago's Plaza
Sweaty Betty's Beat & Tease hair salon
Union Blues
Marc Witkes
FANS
BikeBouncer
BikeCulture
Blues Boy Himi
Paul P. Clancy Jr.
Joe Cote
Farm Team
Gold's Gym
Dorothy Hargrove
Henry Lee Willis Center
Hurdlers.org
Ken Kifer
King of Jester
Major Taylor Foundation
Pedaling History Bicycle Museum
Poetry Oasis
Quilt4Us -- Bryan & Lorie
Team Major Taylor
The Dollars Worth
The Ride magazine / BikeCulture
Vincent's
Wayne's Pizza
Worcester Auto Outlet
&nbsp A few words about some of the category names for our supporters: "Scorchers," in 1890s slang, were fast bicycle riders. In the sports pages of the newspapers of the day, Major Taylor was called "the Worcester whirlwind." Bicycle riders of all kinds were called "wheelmen," and the League of American Wheelmen governed bike racing.

Major Taylor
|
Statue
|
Events
|
Donations
|
News
|
Friends
|
Home
Major Taylor Association, Inc.
P.O. Box 20131
Worcester, MA 01602
info@majortaylorassociation.org
©2000 - 2016 Major Taylor Association, Inc. All rights reserved.
Web design by Tom Swenson.