June 19, 2010

Dutch team visits Major Taylor's hometown

Worcester, Mass.
A six-man cycling team from the Netherlands was in New England in June to do some bike races, and their sightseeing itinerary included the hometown of "The Worcester Whirlwind."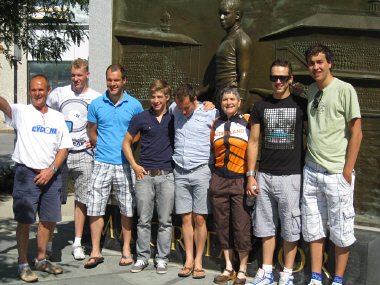 Photo by BILL HUMPHREYS
The Dutch cycling team and their Worcester host, left to right: Team manager Eddie Oomen; Robin van der Lijn, 23; Bob Verkooijen, 27; Jan van Vliet, 18; Mick Kallenfels, 20; Lynne Tolman, president of the Major Taylor Association; Jerry Kallenfels, 23; and Thomas Polak, 19.

They checked out George Street in downtown Worcester, Mass., the training ground of the 1899 world champion and site of an annual uphill time trial in his honor, and visited the Major Taylor statue at the Worcester Public Library before competing in the Purgatory Road Race in Sutton, Mass. The previous weekend in Connecticut, they raced in the Nutmeg Classic Criterium in New Britain (Jerry Kallenfels from the Dutch squad won) and the Whaling City Cyclone in New London.



Read more about the Dutch riders, and view a Dutch TV segment about Major Taylor.


Major Taylor
|
Statue
|
Events
|
Donations
|
News
|
Friends
|
Home
Major Taylor Association, Inc.
P.O. Box 20131
Worcester, MA 01602
info@majortaylorassociation.org
©2000 - 2016 Major Taylor Association, Inc. All rights reserved.
Web design by Tom Swenson.