The Statue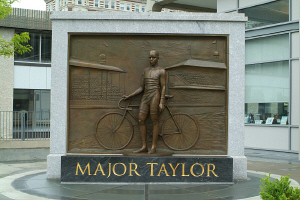 Maryland sculptor Antonio Tobias Mendez was chosen in 2000 to create the Major Taylor statue at the Worcester Public Library. More than 60 artists from around the world competed for the commission. Mendez's design is a two-sided monument incorporating both sculpture and text, inviting viewers to learn more about the man and his legacy.
For slide shows of the making of the statue in 2007-2008, click on the titles below. Each slide show has 7 to 14 pictures.

Toby Mendez holds a bachelor of fine arts degree from the Art Institute of Chicago. His works created at Toby Mendez Studios in Knoxville, Md., include bronze panels (1992) at the U.S. Navy Memorial in Washington, D.C.; "A Tribute to the Oyster Tonger" at Annmarie Gardens in Calvert County, Md.; the state of Maryland's Thurgood Marshall Memorial (1996) in Annapolis; monuments to Nolan Ryan and Tom Vandergriff (1997) at the Texas Rangers Baseball Club in Arlington, Texas; "The Warwick Quahogger, A Day's Catch" (1998) at the Warwick Public Library in Rhode Island; the C&O Canal Monument (2000) in Cumberland, Md.; the Mohandas K. Gandhi Monument (2007) at the Suffolk County government building in Hauppauge, Long Island, N.Y.; and The Cradle of Invasion Monument, "On Watch" (2007), on Solomons Island, Md., commissioned by the Calvert Marine Museum to honor the World War II soldiers and Marines who trained there.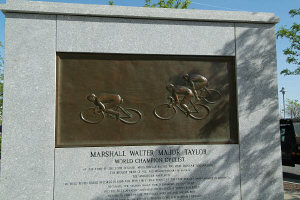 Mendez's monument, titled "A Tribute to Major Taylor," was dedicated May 21, 2008, in Worcester, Mass. It features a two-sided sculpture wall, 10 feet high and 12 feet, 4 inches wide, serving as a wind break for the library entrance and anchoring an outdoor plaza suited for reflection and contemplation. One side of the wall is inscribed with text explaining Major Taylor's life story, under a 4-foot-by-8-foot bronze bas relief sculpture of track bike racers in action. The other side features a larger-than-life, three-dimensional figure of Major Taylor, with his bicycle in high relief, in front of a velodrome portrayed in bas relief. The contrast between the three-dimensional human figure and the relief elements is intended to prompt the viewer "to focus on the athlete as a man," the artist says, as well as to protect the intricate bicycle element from damage. The circle in stone on the ground is paved in a design inspired by a bicycle wheel.

Major Taylor
|
Statue
|
Events
|
Donations
|
News
|
Friends
|
Home
Major Taylor Association, Inc.
P.O. Box 20131
Worcester, MA 01602
info@majortaylorassociation.org
©2000 - 2016 Major Taylor Association, Inc. All rights reserved.
Web design by Tom Swenson.