February 2009
Black History Month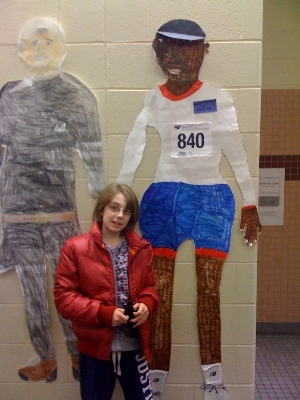 Communities across the country feature Major Taylor in celebrating Black History Month. The Major Taylor Association offers posters, a free downloadable curriculum guide, and more.

At left, fourth-grader Samantha poses with her Famous Hoosiers project, a life-size (5 foot 7) drawing of Major Taylor, at Smoky Row Elementary School in Carmel, Ind.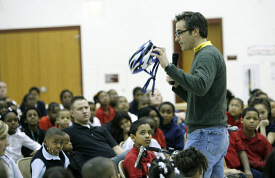 Above, cyclist Daniel Lee tells students at Riverside School in Indianapolis about Major Taylor and bike racing then and now.
PHOTO / HEATHER CHARLES
Lee demonstrates
riding on rollers.
PHOTO / HEATHER CHARLES


Bike racer Simeon Commissiong joined Lee for the Riverside School presentation. The two cyclists met in 2008 when Lee wrote an article about Commissiong's role as model for the Major Taylor statue in Worcester, Mass. Community organizer Phyllis Hackett set up the Riverside School event.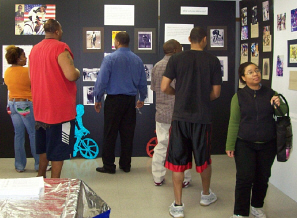 At the Judson Robinson Jr. Community Center in Houston, hundreds of people viewed a two-week exhibit on Major Taylor and local cycling, put together and overseen by Larry Phipps and Joy Boone. Visitors included school and senior citizen groups.

Also during Black History Month 2009, Audio Journal's "African American Experience" broadcast a one-hour program, produced by the Roy Allen Project, of the Major Taylor statue dedication ceremony that took place May 21, 2008. Click here to download the mp3 file and listen.




Major Taylor
|
Statue
|
Events
|
Donations
|
News
|
Friends
|
Home
Major Taylor Association, Inc.
P.O. Box 20131
Worcester, MA 01602
info@majortaylorassociation.org
©2000 - 2016 Major Taylor Association, Inc. All rights reserved.
Web design by Tom Swenson.