> Home > Statue > Slide show: Making of the Statue
Simeon Commissiong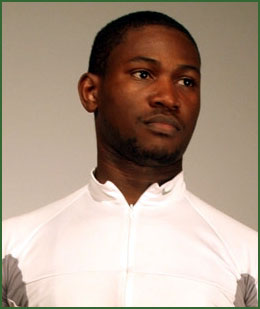 In spring 2007, 24-year-old bicycle racer Simeon Commissiong of Indianapolis posed for sculptor Toby Mendez as the model for Major Taylor. Commissiong is three-time defending sprint champion (2007, 2006, 2005) in the American Velodrome Challenge at the Major Taylor Velodrome in Indianapolis. At 5'9" he has a build remarkably similar to Major Taylor's.

As a student at Indiana University, Commissiong was on the winning team in the Italian Pursuit (a six-lap race between co-ed teams of two to six riders) in the 2002 USA Cycling Collegiate Track National Championships. He also was a member of Team Major Taylor, which finished second in 2003 in the Little 500, the Indiana University bike race made famous in the 1979 film "Breaking Away."

In his native Trinidad & Tobago, he won two junior national championship titles in 2001, in the 1-kilometer time trial and match sprint. He also was under-16 first-place winner in four events at the 1998 Caribbean Junior Cycling Championships: kilo, match sprint, 3000-meter pursuit, and time trial.

The son of a national-caliber cyclist and coach, Commissiong has been on bikes all his life. He moved to the United States after graduating from high school in Trinidad & Tobago, and he received a bachelor's degree in telecommunications from Indiana University in 2006.

Major Taylor
|
Statue
|
Events
|
Donations
|
News
|
Friends
|
Home
Major Taylor Association, Inc.
P.O. Box 20131
Worcester, MA 01602
info@majortaylorassociation.org
©2000 - 2002 Major Taylor Association, Inc. All rights reserved.
Web design by Tom Swenson.