June 27, 2009

African American Festival
and Juneteenth Celebration

11 a.m. to 8 p.m. at Institute Park on Salisbury Street
Worcester, Mass.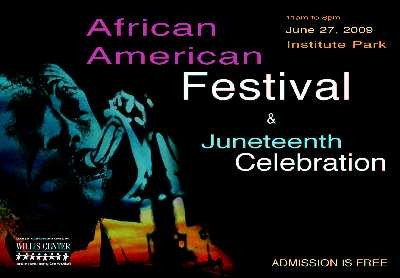 The African American Festival and Juneteenth Celebration put on by the Willis Center featured live jazz, blues, gospel and hip-hop music; African drummers and dance performances; sculptors, painters, weavers, jewelers and other vendors; soul food and local culinary delights; children's crafts and educational activities; cards, dominoes and other games, and more.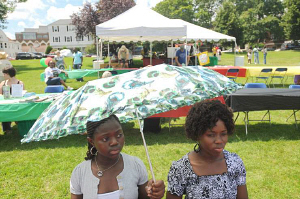 Worcester Telegram & Gazette photo by TOM RETTIG
The BIKE TENT sold tickets for the George Street raffle for a new Fuji road bike and spread the word about the Major Taylor Association and its upcoming George Street Bike Challenge, local bike rides with the Seven Hills Wheelmen, Worcester Earn-A-Bike's youth bike repair classes and Ciclo Vida Go Local bike rides, and plans for the Massachusetts African American Heritage Bicycle Route. For more photos, click here. For more information on the festival, contact Keesha LaTulippe, 508-799-0702.

Major Taylor
|
Statue
|
Events
|
Donations
|
News
|
Friends
|
Home
Major Taylor Association, Inc.
P.O. Box 20131
Worcester, MA 01602
info@majortaylorassociation.org
©2000 - 2016 Major Taylor Association, Inc. All rights reserved.
Web design by Tom Swenson.