Greetings from Edwin Moses
Honorary National Chairman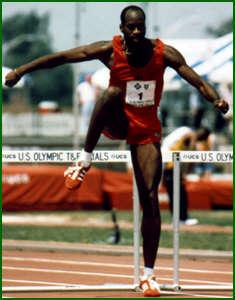 It is an absolute honor and pleasure to accept the Honorary National Chairmanship of the Major Taylor statue campaign. As a fellow world-class athlete and competitor, it is only fitting for me to participate in efforts to honor a man who was truly "before his time." There is no doubt in my mind that Major Taylor never was able to be recognized solely for his talent during the era in which he competed.
In fact, even 100 years later, there has not been an African-American cyclist to reach that pinnacle of success. Becoming a world champion in the late 1800's I'm sure was not as simple as just riding a bicycle. Marshall W. "Major" Taylor was able to overcome all the odds and accomplish just that.
No doubt if he competed in today's world of sports, he could achieve worldwide prominence and financial remuneration as well. From one world-class athlete to another, Marshall W. "Major" Taylor, we salute you for your life, your extraordinary victories and your fortitude.
I am honored to be asked to help in this celebration.
Sincerely,
Edwin C. Moses
Olympic gold medalist
400-meter hurdles
1976 and 1984

Olympic track and field champion EDWIN C. MOSES dominated the 400-meter hurdles for a decade.
Three-time Olympic medalist: gold in 1976 (Montreal) and 1984 (Los Angeles), and bronze in 1988 (Seoul)
1983 world champion and multiple world record-setter
1983 world record of 47.02 seconds was unbroken for nine years
Unprecedented winning streak: 122 consecutive victories, 1977-1987
Inducted into U.S. Track and Field Hall of Fame, 1994
Leader in fostering drug-free sports
Currently Edwin Moses is a financial consultant for a division of Salomon Smith Barney, as well as an international sports diplomat. He holds a degree in physics and engineering from Morehouse College and an MBA from Pepperdine University. He is also a registered securities agent, a licensed private airplane pilot, and a scuba diver.
Click here to learn more about Edwin Moses

Major Taylor
|
Statue
|
Events
|
Donations
|
News
|
Friends
|
Home
Major Taylor Association, Inc.
P.O. Box 20131
Worcester, MA 01602
info@majortaylorassociation.org
©2000 - 2002 Major Taylor Association, Inc. All rights reserved.
Web design by Tom Swenson.