February 15-21, 2004
Major Taylor Reading Week
Worcester, Mass.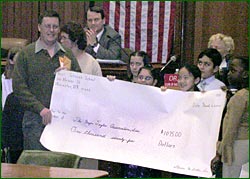 Third- and fourth-graders in the Worcester Public Schools learned about Major Taylor and conducted a readathon for the Major Taylor Association, using a curriculum guide developed by West Tatnuck School teacher Virginia Walsh and promoted by the Educational Association of Worcester. Youngsters at West Tatnuck School raised $1,075 and presented a check to Major Taylor Association board member Tom Swenson at a Worcester School Committee meeting March 4. Other schools and youth groups can download the free Major Taylor curriculum kit by clicking here.

Major Taylor
|
Statue
|
Events
|
Donations
|
News
|
Friends
|
Home
Major Taylor Association, Inc.
P.O. Box 20131
Worcester, MA 01602
info@majortaylorassociation.org
©2000 - 2016 Major Taylor Association, Inc. All rights reserved.
Web design by Tom Swenson.