July 23, 2017
2017 George Street Raffle
Win a bike!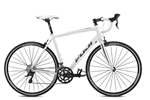 Win a Fuji Sportif 2.3 road bike from Barney's Bicycle. Tickets are $5, or three for $12, or six for $20. Prize drawing was July 23 at the conclusion of the 15th edition of the George Street Bike Challenge for Major Taylor at George and Main streets, Worcester, Mass. Proceeds benefit the Major Taylor Association. This year the organization is helping the Indiana Historical Bureau fund replacement of the vandalized historical marker on the Monon Trail in Indianapolis, near the site of the track where Major Taylor set his first world record.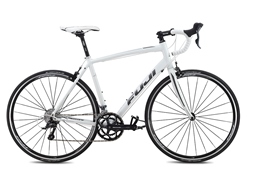 GRAND PRIZE -- Fuji Sportif 2.3 road bike: Designed for versatility and performance, this bike has endurance geometry for an efficient riding position, perfect for local group rides, centuries or your next charity ride. It features an alloy frame and carbon fork, Shimano Claris shifters with Sora 9-speed cassette and FSA Tempo crankset (50/34). Click here for complete specs, or visit Barney's Bicycle, 582 Park Ave., Worcester. Winner: Josh Wingell
MORE PRIZES: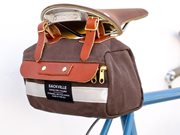 Sackville SaddleSacks from Rivendell Bicycle Works. Made of waterproof, rotproof Scottish cotton with leather straps, these are the most popular seat bags at Rivendell. We're giving away two -- one dark brown and one blue. They can be attached to handlebars, too. Winners: Deb Pinto and Maureen Lockman




Major Taylor cycling jersey from the Major Taylor Association. The custom, limited-edition design features a 1900 photograph of Major Taylor taken by E. Chickering in Boston; the Worcester, Mass., street sign for Major Taylor Boulevard with the city's "Heart of the Commonwealth" symbol; and the 1899 world champion's nickname, "The Worcester Whirlwind." Made by Louis Garneau in Micro-Airdry fabric with a 14-inch hidden zipper and three rear pockets. To buy this jersey ($69), click here. Winner: Oliver Toupense



JERSEY SPONSORS: AdventureCORPS
Jason & Fischer (BikeAttorney.com)





| | |
| --- | --- |
| | Planet Bike Air Smith CO2 inflators and Super Flash Micro taillights from Barney's Bicycle, courtesy of JBI.BIKE. We have a bunch of these items to give away. The pocket-sized inflators come with a CO2 cartridge, fit both Presta and Schraeder valves without adapters, and also can pump air for emergency repairs. The lightweight, weatherproof lights have two modes (steady and flashing) to keep a bike highly visible, even in daylight. Winners: Maureen Lockman, Deb Pinto, Scott Skirkey, Michelle Stearns, Jane Richard, Rachel Blum, Ray Vesty, Heather Ryder, Jonathan Baker, Oliver Toupense |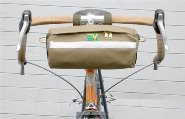 A Sackville Bar Tube bag from Rivendell Bicycle Works that fits any handlebar. Attention, vegans: This one is leather-free. It's made of heavy-duty waxed cotton with a 3M Scotchlite reflective stripe. Winner: Scott Skirkey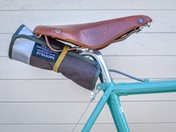 Mark's ToolWrap, another classic carry-all from the Sackville line at Rivendell Bicycle Works. Fill the pockets with tubes, tools and other essentials, wrap it like a burrito, and you're ready to ride. Winner: Michelle Stearns




| | | |
| --- | --- | --- |
| | Books by Grant Petersen, founder of Rivendell Bicycle Works and cycling's favorite contrarian. "Just Ride" is a manual for the Unracer, consisting of micro-essays on riding your bike outside the strange and often dysfunctional influences of racing. "Eat Bacon, Don't Jog" is a paleo guide full of juicy tidbits on saying goodbye to body fat. Winners: Oliver Toupense, Maureen Lockman, Deb Pinto, Scott Skirkey, Heather Ryder, Willa Kahn | |
| | |
| --- | --- |
| | "The Ultimate Bicycle Owner's Manual" by Eben Weiss, aka Bike Snob. In his fourth book, the blogger behind Bike Snob NYC clarifies the finer points of bike culture and subcultures, and unapologetically affirms some stuff you were already thinking. We have multiple copies to give away, courtesy of Rivendell Bicycle Works. Winners: Rachel Blum and Jane Richard |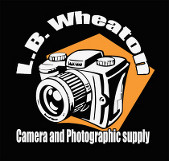 Four $40 gift certificates from L.B. Wheaton camera and photographic supply store in Worcester. L.B. Wheaton carries everything from tripods, Epson inks and picture frames to point-and-shoot cameras and lighting products. Services include professional lab services, video transfer from VHS to DVD, online ordering for prints and greeting cards, and passport photos. Winners: Ray Vesty, Heather Ryder, Jane Richard and Rachel Blum


| | | |
| --- | --- | --- |
| | Long-sleeved T-shirts from the 1854 Cycling Co., whose sales go toward ending recidivism among the formerly incarcerated. Inspired by abolitionists William Lloyd Garrison and Sojourner Truth, who said: "I will shake every place I go to." Winners: Rachel Blum and Jane Richard | |

A three-month adult membership to the YMCA of Central Massachusetts, the organization that welcomed Major Taylor when others drew "the color line." Winner: Deb Pinto




A Seven Hills Wheelmen cycling jersey, any size you choose. Made by Champion Systems, these custom Tech Pro jerseys have a full zipper and three rear pockets, including a zippered phone pocket. To buy this jersey, click here (ordering deadline is July 26). Winner: Michelle Stearns



A $50 gift card from Deadhorse Hill, a Main Street restaurant and cafe that takes its name from another steep incline in Worcester, a stretch on Stafford Street. Located where the organizers of an automobile climb on Dead Horse Hill used to meet, the restaurant features creative and approachable cuisine and sincere hospitality. Winner: Maureen Lockman



Cyanotypes by Lisa Shea of Sutton, featuring bicycle gears from Trek Stop. We have two of these original artworks to give away. The 8x10 images are matted to size 11x14. Winners: Heather Ryder and Ray Vesty




A gift certificate for a 60-minute massage from SportsZenergy, owned and operated by triathlete Shirley Shepardson, a George Street Bike Challenge rider and Seven Hills Wheelmen member, who specializes in sports massage. Winner: Scott Skirkey


| | | |
| --- | --- | --- |
| | A Worcester Wares tote bag containing a classic Worcester T-shirt, a Worcester coloring book, and an assortment of Worcester stickers. Winner: Willa Kahn | |
| | | |
| --- | --- | --- |
| | A gift package from the Worcester Railers, including two T-shirts, a cap, a lunch bag, school supplies and a phone wallet -- great gear to show pride in Worcester's pro hockey team in the ECHL. The puck drops Oct. 14. Winner: Jonathan Baker | |

4 tickets to a Worcester Bravehearts home game -- Futures League baseball at Hanover Insurance Park at Fitton Field -- plus a T-shirt. Winner: Willa Kahn




| | |
| --- | --- |
| A $25 gift certificate from Hot Power Yoga Center in Worcester, offering Vinyasa yoga classes. Go with the flow. Winner: Michelle Stearns | |

Water bottles from 3Cross Brewing Co. Visit the taproom at this Worcester brewery for the George Street After-party, 2-6 p.m. July 23, and enjoy a Whirlwind beer, named in honor of "the Worcester Whirlwind," Major Taylor. Brewed in the traditional Belgian witbier style with grains of paradise and hints of citrus, Whirlwind is a summertime thirst-quencher. Winners: Willa Kahn, Jonathan Baker, Oliver Toupense


| | |
| --- | --- |
| The book "You & a Bike & a Road" (2017, Koyama Press). Last year, acclaimed cartoonist and illustrator Eleanor Davis documented her cross-country bike tour as it happened. The immediacy of her sketchbook journal makes for an incredible chronicle of human experience on the most efficient and humane form of human transporation. "Quieter and more intimate," writes Jon Day in The New York Review of Books. "It feels truer somehow than many other cycling narratives." Winners: Jonathan Baker and Willa Kahn | |

A $50 gift card from Bikes + Life. Love the journey. Winner: Heather Ryder





Major Taylor
|
Statue
|
Events
|
Donations
|
News
|
Friends
|
Home
Major Taylor Association, Inc.
P.O. Box 20131
Worcester, MA 01602
info@majortaylorassociation.org
©2000 - 2018 Major Taylor Association, Inc. All rights reserved.
Web design by Tom Swenson.