July 25, 2010
2010 George Street Raffle
Win a bike!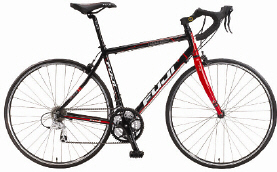 A Fuji Newest 3.0 24-speed road bike from Barney's Bicycle was the grand prize in the raffle drawn July 25, 2010, at the ninth annual George Street Bike Challenge for Major Taylor in Worcester, Mass. More prizes are shown below.





| | | |
| --- | --- | --- |
| 1 TICKET ($5) | 3 TICKETS ($12) | 6 TICKETS ($20) |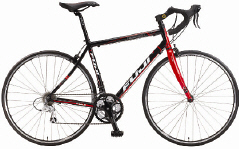 GRAND PRIZE -- Fuji Newest 3.0 road bike: This 24-speed model from Fuji's road sport line is an entry-level bike with pro performance, well-suited for a recreational rider seeking comfort and smooth handling. It features a compact aluminum frame and carbon fork, Shimano Sora rear derailleur and triple crankset. Click here for complete specs, and check it out at Barney's Bicycle, 165 Chandler St., Worcester. Winner: Mark Padula


MORE PRIZES:

| | | |
| --- | --- | --- |
| | An original woodcut print by Worcester artist James J. Washington. Winner: John Stevens | |

Major Taylor cycling jersey from the Major Taylor Association. The custom, limited-edition design features a 1900 photograph of Major Taylor taken by E. Chickering in Boston; the Worcester, Mass., street sign for Major Taylor Boulevard with the city's "Heart of the Commonwealth" symbol; and the 1899 world champion's nickname, "The Worcester Whirlwind." Made by Louis Garneau in Micro-Airdry fabric with a 14-inch hidden zipper and three rear pockets. To buy this jersey ($79), click here. Winner: Dave Stearns
JERSEY SPONSORS: AdventureCORPS
Jason & Fischer (BikeAttorney.com)


| | | | |
| --- | --- | --- | --- |
| | Merino wool Sprint base layers (short-sleeve and tank tops), plus Performance arm warmers and a Metro cap/liner, from Joneswares, based in Petersham, maker of high-quality wool clothing for cycling and other outdoor sports. The Joneswares slogan says it all: Get (real) comfortable. Winners: Peter Foley, Charles Brown, Kathryn Snell | | |
| | | |
| --- | --- | --- |
| | Gift boxes from Just Soap, the pedal-powered natural soap. Each box contains bars of Lavender Rosemary, Lemongrass Ginger, Cinnamon Clove, Oatmeal Honey, and Lavender Avocado soap. A great thing about this Massachusetts-made product is that the ingredients are blended by bicycle -- a unique model that drives a belt that turns a blade in a big stainless steel vat. Winners: Conor Crowley, Charles Brown, Kathryn Snell, Josh Sparks | |

A 70-ounce Camelbak Rogue Hydration Pack from REI with aerodynamic design and external filling capability -- great for long rides. Winner: Peter Foley
| | | |
| --- | --- | --- |
| | A $50 gift card from Niche Hospitality Group, good for Bocado Tapas Wine Bar, Mezcal Tequila Cantina, or The Citizen Wine Bar, three great places to dine in Worcester. Winner: Steve Archambault | |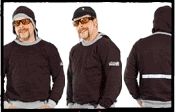 A lightweight cotton-knit Urban Velo hoodie, with a pass-through rear pocket and reflective stripe -- perfect for a cool summer evening. Winner: John Stevens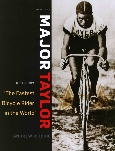 The book "Major Taylor: The Fastest Bicycle Rider in the World" by Andrew Ritchie. This is an updated edition (Van der Plas/Cycle Publishing, 2009) of the definitive biography, with additional photos. Winners: Peter Foley, Dave Stearns, Steve Archambault, Erik Otto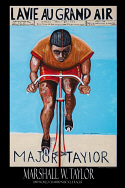 A 20-by-30-inch photo print of Samuel Blackwell's painting of Major Taylor. The poster also can be purchased for $35 plus shipping by e-mailing Jawara O'Connor for an order form. Proceeds will benefit the formation of a Major Taylor cycling club in Seattle that aims to promote cycling among area youths. Winner: Conor Crowley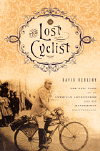 The book "The Lost Cyclist" by David V. Herlihy (Houghton Mifflin Harcourt, 2010), the true story of American cycle tourist Frank Lenz's mysterious disappearance in Turkey in the 1890s. Winners: Conor Crowley, Kathryn Snell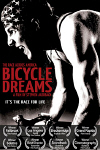 The DVD "Bicycle Dreams," a documentary film by Steven Auerbach about the Race Across America. Winner: Dave Stearns






| | | |
| --- | --- | --- |
| | The documentary video "Free Wheels 60," a 60-year history of the Little 500. The Little 500 is the Indiana University bike race made famous in the 1979 movie "Breaking Away." Winner: Josh Sparks | |

Major Taylor
|
Statue
|
Events
|
Donations
|
News
|
Friends
|
Home
Major Taylor Association, Inc.
P.O. Box 20131
Worcester, MA 01602
info@majortaylorassociation.org
©2000 - 2018 Major Taylor Association, Inc. All rights reserved.
Web design by Tom Swenson.