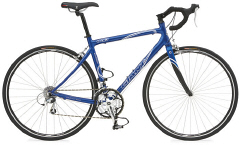 GRAND PRIZE -- Giant OCR3 road bike: This 24-speed model from Giant's road/sport line is versatile enough for touring, charity rides, serious commuting, and spirited enough for entry level racing. ALUXX butted aluminum compact road frame with Shimano Sora components and triple crankset. Click here for complete specs, and check it out at Barney's Bicycle, 165 Chandler St., Worcester. Winner: Chris Kadlick

SECOND PRIZE -- $500 gift certificate from Rotmans. Fantastic! Winner: Jim Mello


MORE PRIZES: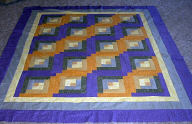 Handmade full-size quilt from Lorie C. The Log Cabin pattern has particular significance in African-American history, having served as a signal on the Underground Railroad. Winner: Zenzi Griffin

YMCA family membership from the YMCA of Greater Worcester -- the organization that welcomed Major Taylor when others drew "the color line." Good for three months of full privileges at the fitness centers at the Greendale Family Branch on Shore Drive and the Central Community Branch on Main Street. Winner: Lorraine Stewart
Cycling jersey from Major Taylor Cycling Club of NY/NJ. Made by Louis Garneau. Winner: Richard Person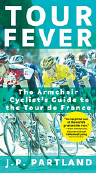 "Tour Fever: The Armchair Cyclist's Guide to the Tour de France" by J.P. Partland, published just in time for the 2006 Tour de France. Buy your raffle tickets before June 9 and you could win one of five copies of this book at our earlybird drawing at 6:45 p.m. June 9 at Barney's Bicycle, 165 Chandler St., Worcester. Win or lose, all earlybird tickets go back into the mix for the big prize drawing July 23. Winners: Larry Camilli, Bob Gorsica, Leslie Choquette, Fran Benoit, Jennifer Moiles

One-hour massage by Karen Potter, Licensed Massage Therapist, 422 Boston Turnpike, Shrewsbury, Mass. Winner: Harrison McCann

One-hour moonlight tour by Boston Pedicab, pedal-powered chauffeur. Winner: Katie Paul Oliver

"The Six-Day Bicycle Races: America's Jazz-Age Sport," a book by Peter Nye about the heyday of the original multiday physical contest, decades before Xtreme Sports. Winner: Judi Riggieri

"Pedal" by Peter Sutherland, a wild ride alongside a band of New York City's most feared and respected inhabitants: bike messengers. This book of photographs and documentary on DVD follow the frenetic trips and lives of cyclists who live by their own rules of the road. Winner: AJ Overton

"The Story of Manny Being Manny," written by Todd Balf and illustrated by Oliver Balf. The lovable spirit of Red Sox slugger Manny Ramirez is captured in this children's story for every generation in Red Sox Nation. Winner: Colleen Santoro

"The Tour," a novel by Dave Shields. The sequel to Shields' novel "The Race" will have you racing to the last chapter to find out how a professional cyclist confronts the complex pressures posed by illegal performance-enhancing drugs. Winner: Joyce Pierandrea

King of Jester T-shirt featuring the logo from another vertical bike challenge, the King of Jester hill climb on Jester Street in Austin, Texas. Winner: Barb Patton

Diner City Scooter Club T-shirts and buttons from the host of the annual Summer Scoot in Worcester. Winners: AJ Overton, Colleen Santoro

"Stone, Steel, and Spirit," a book by Steve Mannheimer, architect of the Indiana State Museum. This gift from the museum describes the making of a great structure designed to pay tribute to the citizens and spirit of Indiana -- the state where Major Taylor was born. Comes with an Indiana souvenir spoon and an Indiana puzzle cube. Winner: Barb Patton

The biography "Major Taylor: The Extraordinary Career of a Champion Bicycle Racer" by Andrew Ritchie. Buy the book from Amazon.com using this link and your purchase will benefit the Major Taylor Association. To read more about the author's 2005 visit to Worcester, click here.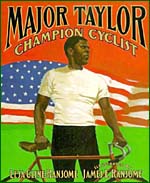 The children's book "Major Taylor, Champion Cyclist," written by Lesa Cline-Ransome and illustrated by James E. Ransome. This 2004 book from Simon & Schuster, for children ages 6 to 10, tells how a young Major Taylor overcame the bitter racism of his day to become a world champion athlete. Buy the book from Amazon.com using this link and your purchase will benefit the Major Taylor Association. To read more about the book and the Ransomes' 2004 visit to Worcester, click here. Winner: AJ Overton

Major Taylor
|
Statue
|
Events
|
Donations
|
News
|
Friends
|
Home
Major Taylor Association, Inc.
P.O. Box 20131
Worcester, MA 01602
info@majortaylorassociation.org
©2000 - 2018 Major Taylor Association, Inc. All rights reserved.
Web design by Tom Swenson.