September 21, 2008
Major Taylor Century
Whitinsville, Mass.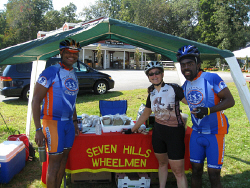 This annual bicycle ride presented by the Seven Hills Wheelmen and 10th Gear Christian Youth Cyclists offers routes of 25, 62 and 100 miles on quiet, rolling back roads of central Massachusetts, plus a bit of Rhode Island and Connecticut. It's not a race! The 2008 routes started at the Whitin Community Center in Whitinsville, and 85 riders participated under sunny skies. Proceeds benefit 10th Gear, Seven Hills Wheelmen and the Major Taylor Association. For more information and photos, click here.

Major Taylor
|
Statue
|
Events
|
Donations
|
News
|
Friends
|
Home
Major Taylor Association, Inc.
P.O. Box 20131
Worcester, MA 01602
info@majortaylorassociation.org
©2000 - 2016 Major Taylor Association, Inc. All rights reserved.
Web design by Tom Swenson.