October 29, 2004
Metal Cowboy
Bijou Community Cinema
Worcester, Mass.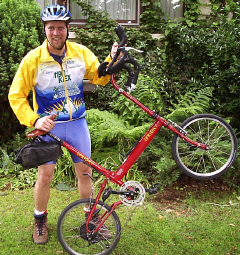 Bike Friday presented a hilarious live performance by Oregon bicyclist Joe Kurmaskie, author of "Metal Cowboy: Tales from the Road Less Pedaled" and "Riding Outside the Lines." Full of energy, wit and wisdom, Metal Cowboy shares a lifelong love affair with the open road -- an infectious and big-hearted collection of true adventures and misadventures of touring America and the world by bike. One reviewer called him "David Sedaris in the body of Lance Armstrong."

A bike jersey autographed by Olympic gold medalist Tyler Hamilton, and other prizes, were raffled off at intermission. The winner of the jersey was Rong-Rong Zhu of Southboro, Mass. Proceeds from the show, the raffle, and Metal Cowboy book sales at the event benefited the Major Taylor Association.

Major Taylor
|
Statue
|
Events
|
Donations
|
News
|
Friends
|
Home
Major Taylor Association, Inc.
P.O. Box 20131
Worcester, MA 01602
info@majortaylorassociation.org
©2000 - 2016 Major Taylor Association, Inc. All rights reserved.
Web design by Tom Swenson.