May 18-24, 2000
Major Taylor Week
at Applebee's in Worcester, Mass.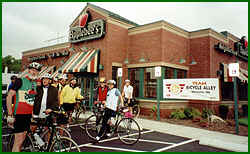 Road and off-road bicyclists worked up an appetite on the Worcester Whirlwind Bike Rides led by Team Bike Alley, then had good times at Applebee's Neighborhood Grill and Bar, 632 Park Ave., Worcester. Applebee's donated a percentage of the restaurant's proceeds from Major Taylor Week patrons to the statue fund. MassBike provided free valet bike parking at Applebee's the evenings of the rides.

Major Taylor
|
Statue
|
Events
|
Donations
|
News
|
Friends
|
Home
Major Taylor Association, Inc.
P.O. Box 20131
Worcester, MA 01602
info@majortaylorassociation.org
©2000 - 2002 Major Taylor Association, Inc. All rights reserved.
Web design by Tom Swenson.