August 13, 2009

Indiana Historical Marker Dedication

38th Street and the Monon Trail
Indianapolis, Ind.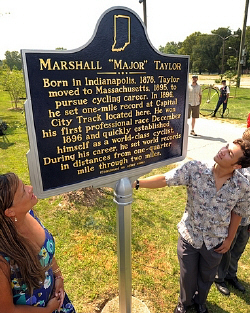 The Indianapolis Star photo by MATT KRYGER
The Indiana Historical Bureau, Indiana State Fair Commission and Central Indiana Bicycle Association Foundation unveiled an Indiana Historical Marker honoring Major Taylor at noon August 13, 2009, at the location of the former Capital City Track, where Taylor set one of his first records. One of Major Taylor's great-grandchildren spoke at the dedication. Click here for photos. Click here for an article in The Indianapolis Star.

Major Taylor
|
Statue
|
Events
|
Donations
|
News
|
Friends
|
Home
Major Taylor Association, Inc.
P.O. Box 20131
Worcester, MA 01602
info@majortaylorassociation.org
©2000 - 2016 Major Taylor Association, Inc. All rights reserved.
Web design by Tom Swenson.