February 3, 2001
African American Festival
Student Center, Worcester State College,
486 Chandler St., Worcester, Mass.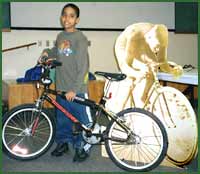 The Major Taylor Association, Inc., was showcased in the Museum Room of Worcester's fourth annual African American Festival, which also featured live music, ethnic food, merchandise, health information and community resource info. Congratulations to the following winners in the Major Taylor Association prize drawings:

Major Taylor
|
Statue
|
Events
|
Donations
|
News
|
Friends
|
Home
Major Taylor Association, Inc.
P.O. Box 20131
Worcester, MA 01602
info@majortaylorassociation.org
©2000 - 2002 Major Taylor Association, Inc. All rights reserved.
Web design by Tom Swenson.