February 2006
Black History Month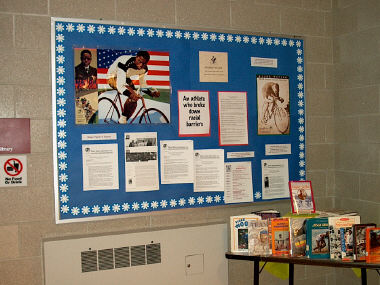 Communities across the country feature Major Taylor in celebrating Black History Month. The Major Taylor Association offers posters, a free downloadable curriculum guide, and more. Pictured: A hallway display outside the library of Curtis Middle School in Sudbury, Mass.










Major Taylor
|
Statue
|
Events
|
Donations
|
News
|
Friends
|
Home
Major Taylor Association, Inc.
P.O. Box 20131
Worcester, MA 01602
info@majortaylorassociation.org
©2000 - 2016 Major Taylor Association, Inc. All rights reserved.
Web design by Tom Swenson.