7:00 p.m.
November 14, 2010
Landry's Bicycles presents

"Bicycle Dreams"
Razzo Hall, 92 Downing St.,
Clark University, Worcester, Mass.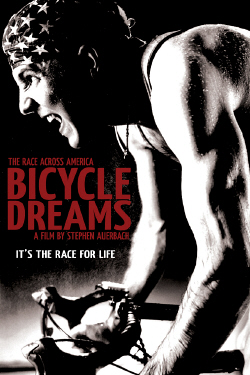 "Bicycle Dreams," the true story of the Race Across America, was screened at 7:00 p.m. Sunday, November 14, 2010, in Razzo Hall, 92 Downing St., Clark University, Worcester, Mass. The award-winning documentary film by Stephen Auerbach follows a handful of seekers on a transformative journey -- a grueling 3,000-mile bicycle race that has been deemed the most challenging sporting event in the world. While exploring how and why endurance athletes push their limits, the movie goes beyond cycling and celebrates the human spirit.

"A beautiful film that probes deeply into the sportís heart of darkness, offering an inspiring glimpse at the high price of glory." -- USA Today

Winner of 15 film festival awards

Proceeds benefit the Major Taylor Association.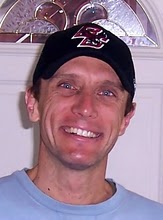 Q&A with RAAM rider Patrick Autissier of Boston followed the screening. In his rookie year in the race chronicled by "Bicycle Dreams," Autissier approaches the physical, mental and emotional challenges differently than his competitors, and a compelling drama results. An accomplished triathlete, a husband and a father of two, and now a manager in the biology department at Boston College, Autissier draws inspiration from the quest for an HIV vaccine. He was the first Frenchman to enter the Race Across America and has crossed the finish line both as a solo competitor and a team entrant.


Buy the DVD
$14.99



Go to www.bicycledreamsmovie.com/buy.html
and type in the discount code MAJOR
and then click "Use Code."
The price will drop 40 percent
to $14.99 plus shipping.




Screening sponsor

Clark University map
Razzo Hall is in the Traina Center for the Arts
(building #42 on the map).
Parking is free on the top level
of the garage on Downing Street
(#39 on the map).


"Bicycle Dreams" trailer

Printer-friendly event flier (PDF)

In the news:
Ten things to do: Extreme biking (Telegram & Gazette)

Major Taylor
|
Statue
|
Events
|
Donations
|
News
|
Friends
|
Home
Major Taylor Association, Inc.
P.O. Box 20131
Worcester, MA 01602
info@majortaylorassociation.org
©2000 - 2016 Major Taylor Association, Inc. All rights reserved.
Web design by Tom Swenson.