October 11, 2008
Colonel Allensworth Century and Fun Ride
Allensworth, Calif.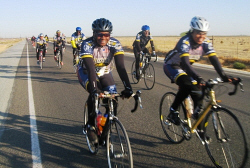 Eighty-seven cyclists pedaled 40, 80, 90 or 100 miles on Oct. 11, 2008, with Crankin' Time Cycling, from the Colonel Allensworth State Historic Park across the farmlands of the San Joaquin Valley and into the foothills of the southern Sierra Nevada Mountains. The ride concluded with a barbecue lunch and the Allensworth centennial festival, celebrating the legacy of Col. Allen Allensworth, a former slave and army chaplain in the black 24th Infantry (Buffalo Soldiers) who teamed up with a gifted black teacher named William Payne to create a colony of opportunity in California's Central Valley in the early 1900s.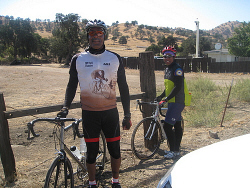 Proceeds benefited the Friends of Allensworth and the Major Taylor Association. Click here for details, or download the brochure (PDF). Click here for more photos.

Major Taylor
|
Statue
|
Events
|
Donations
|
News
|
Friends
|
Home
Major Taylor Association, Inc.
P.O. Box 20131
Worcester, MA 01602
info@majortaylorassociation.org
©2000 - 2016 Major Taylor Association, Inc. All rights reserved.
Web design by Tom Swenson.