July 24, 2016
McDermott 3 State Tour
Pittsburgh, Pa.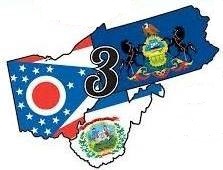 The Pittsburgh Major Taylor Cycling Club presented a scenic bicycle ride on the roads of Pennsylvania, Ohio and West Virginia, with options of 62, 80 or 100 miles, or a 5- to 20-mile family trail ride, in remembrance of club member Mike McDermott. Proceeds benefit the club's Major Force Youth Cycling Program and the Major Taylor Association. Find details on the ride here and view the photo album.






Major Taylor
|
Statue
|
Events
|
Donations
|
News
|
Friends
|
Home
Major Taylor Association, Inc.
P.O. Box 20131
Worcester, MA 01602
info@majortaylorassociation.org
©2000 - 2016 Major Taylor Association, Inc. All rights reserved.
Web design by Tom Swenson.