May 21, 2005
Kissena Classic
New York City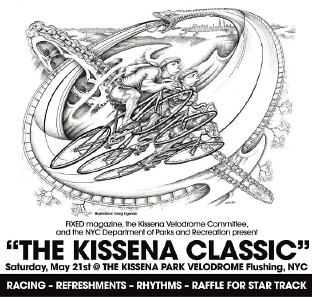 FIXED magazine, the Kissena Velodrome Committee, and the New York City Department of Parks and Recreation presented the Kissena Classic, a day of track bike racing, on May 21, 2005, at the Kissena Park Velodrome in Queens. The omnium-style meet, dedicated to Major Taylor, featured $4,000 in cash prizes, an IRO Cycle track bike and limited edition T-shirt giveaways from Puma, refreshments from Red Bull, and a raffle for the Star Track youth cycling program with a Bianchi Pista Concept track bike as first prize.

Working bike messengers got free entry, courtesy of Trackstar.

Results have been posted at NYVeloCity, and photos at New York Bike Messenger Association.

For more information, visit www.kissenavelodrome.com, or click on the image above, or contact Bucky Turco, 212-660-3820, or Alan Atwood, 631-472-2324 (5-9 p.m.).

Major Taylor
|
Statue
|
Events
|
Donations
|
News
|
Friends
|
Home
Major Taylor Association, Inc.
P.O. Box 20131
Worcester, MA 01602
info@majortaylorassociation.org
©2000 - 2016 Major Taylor Association, Inc. All rights reserved.
Web design by Tom Swenson.