July 22, 2018
Where is George Street?
Worcester, Mass.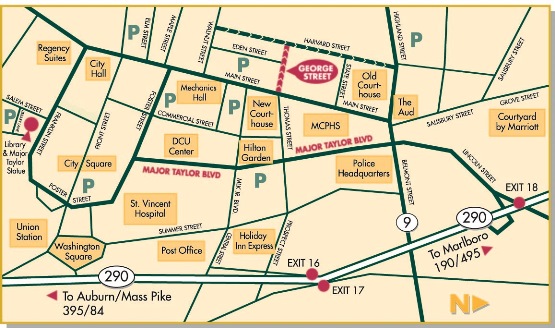 Notes: George Street is one-way uphill and will be closed to cars during the race. Cyclists should turn right at the top of George Street onto Harvard Street and go around the block -- right onto State Street, right onto Main Street -- to return to the race start.
The Major Taylor monument was installed and dedicated in May 2008 outside the Worcester Public Library. The monument is about three-quarters of a mile from George Street. The library takes up most of the block where the big red dot on the map is, bounded by Franklin Street, Salem Street and Library Lane. The Major Taylor monument is on the building's south side (main entrance), opposite Library Lane from the parking lot. Parking there is free on Sundays.
Major Taylor Boulevard became the new name, in July 2006, for the straight part of Worcester Center Boulevard. The curved part became a continuation of Foster Street.
Martin Luther King Jr. Boulevard became the new name, in July 2008, for Central Street from Summer Street to Main street.
Front Street was extended through CitySquare in December 2012. It now runs all the way from Main Street to Washington Square.
GEORGE STREET BIKE CHALLENGE

Major Taylor
|
Statue
|
Events
|
Donations
|
News
|
Friends
|
Home
Major Taylor Association, Inc.
P.O. Box 20131
Worcester, MA 01602
info@majortaylorassociation.org
©2000 - 2018 Major Taylor Association, Inc. All rights reserved.
Web design by Tom Swenson.