July 30, 2006
Telegram &amp Gazette
Worcester, Mass.

Downhill superstar Flynn rises to the top
By Mark Conti
Cycling columnist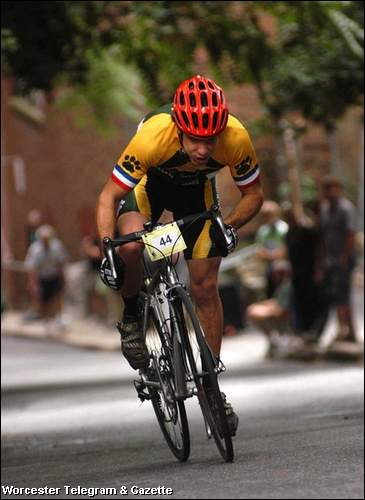 Gravity racer David Flynn was in a defiant mood last Sunday.

The 21-year-old pro downhill mountain biker usually lets the laws of nature help him win bike races. He screams down mountainsides, hurdling roots, rocks and boulders with a full-face helmet, full body armor and a full-suspension bike as gravitational force pulls him toward the center of the earth.

But Flynn decided to fight the law and head uphill last Sunday. He traded his baggy shorts for tight Lycra.

On a borrowed Specialized Allez road bike, Flynn scorched a very competitive field of cyclists to win the fifth annual George Street Bike Challenge for Major Taylor in Worcester and set a course record at 23.13 seconds. The time trial is a 500-foot uphill sprint with an average grade of 18 percent.

"I was a little surprised. I was just happy to get up in under 30 seconds," said Flynn, of Shrewsbury. "Good downhill riders have very strong sprints and this was only 500 feet."

Though much of a downhill race is descending technical terrain, there are sections when a racer must sprint through a flat or short uphill section, and those valuable seconds can be the difference between a podium finish and a low-place performance.

"It wasn't really a road race. I don't know that a road racer would necessarily win that," Flynn said. "I just lucked out."

Flynn is a Holy Name graduate who has attended Lees-McRae College in North Carolina for two years and been a member of the college's mountain bike team, which has won three straight national championships. He raced BMX competitively for three years before turning his attention to downhill racing in high school. Flynn climbed the ranks in downhill as well as dual slalom and mountaincross. As a pro, he now races with the fastest downhillers in the world.

"It doesn't surprise me that a downhiller has very strong legs. I'm almost exclusively a roadie, but I once tried mountain biking on a downhill course at Mount Snow, and it took muscle. As for technique, there's plenty of crossover between cycling disciplines. Look at Floyd Landis, the new king of the road, he got his start as a mountain bike racer," said Lynne Tolman, of the Major Taylor Association, which sponsored the hill climb event.

Rich Hollenbeck, 21, of Wallingford, Conn., finished second with a time of 23.16; and Danny Estevez, 17, of Worcester, took third at 23.35. Brian Chapman, 32, of Providence, and George Costa, 29, of Middleboro, who rode the hill on a BMX bike, tied for fourth overall at 25.22. Kenny Ambach, 26, of Sterling, finished fifth with a time of 25.37, and Scott Dolmat-Connell, 19, of Princeton, took sixth at 25.50. The top three finishers beat the previous course record of 23.56 set by Mike Orsi of Auburn in 2002.

The event also had a record number of participants this year with 110 riders.

The George Street Bike Challenge for Major Taylor has been held for five years by the Major Taylor Association to raise money for a statue of 1899 world cycling champion Marshall W. "Major" Taylor, "the Worcester Whirlwind," and this year the group had several developments to celebrate.

After the association's years of trying to raise money for the statue, which will be placed in front of the Worcester Public Library, the state last month promised funds to help build it. Also last week, the city renamed a portion of Worcester Center Boulevard as Major Taylor Boulevard.

"For all of us who have been working for about seven years to bring proper recognition to 'the Worcester Whirlwind,' it's been like Alpe d'Huez, just more climbing at every turn," Tolman said. "That's where a strong team makes all the difference. Sprinters rely on the lead-out. We've had a lot of people pulling hard for a long time, and now it's time for the champion to shine."

Major Taylor
|
Statue
|
Events
|
Donations
|
News
|
Friends
|
Home
Major Taylor Association, Inc.
P.O. Box 20131
Worcester, MA 01602
info@majortaylorassociation.org
©2000 - 2018 Major Taylor Association, Inc. All rights reserved.
Web design by Tom Swenson.